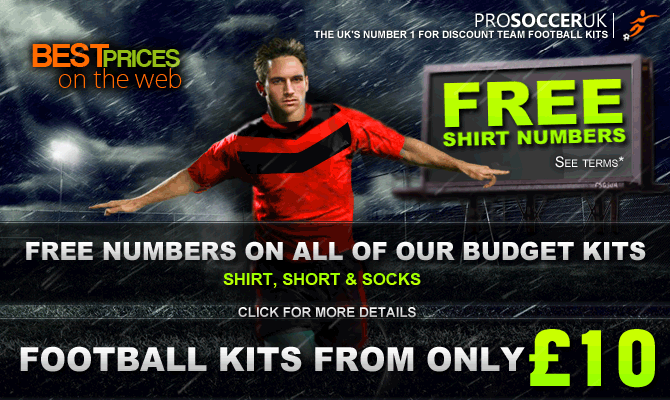 Team Football Kits And Teamwear From Pro Soccer UK
Buy your Football Kits at Pro Soccer Uk one of the Biggest Team football kit suppliers of Nike, Umbro, Mitre, Errea, Stanno, Joma, Legea, Precision and Prostar soccer kits supplied to junior football teams, kids, women's and senior football clubs at low prices to suit everybody's budget.


We supply football kits to soccer clubs, Schools, universities & HM forces, local authorities and blue chip companies offering massive discounts on all our team football kits if you're looking for budget kits welcome to Prosocceruk. Even if the budget isn't tight it's still nice to know that team uniforms are available at discounted prices.


Looking for cheap football kits? Pro Soccer Uk specialise in supplying a range of full football team strips from £10. Quality kits at low prices.
Our football team kits are available to all age groups, we have a vast range of Kids, Youths, Mens and Ladies teams at discounted prices to suit every teams budget, Football kits can be purchased as strips or for 5 A Side, 6 A Side, 7 A Side and 11 A Side Football Teams.
SOCCER KITS
We have a fantastic range of Teamwear suppliers with masses of new soccer strips for the oncoming season 2014-2015, team strips from all the top brands, including:
NIKE - UMBRO - STANNO - PROSTAR - JOMA - ERREA - MITRE - PRECISION
Our Budget kit range Pro Discount Soccer Strips have made team strips affordable to all, these cheap team kits are top quality at a price all clubs can afford, never have there been so many branded team kit suppliers on one website showing a fantastic collection of their soccer strips. Click on your favourite Teamwear supplier and then Choose from the different departments within these are team strips, football shirts / jerseys, shorts and socks, Goalkeeper's kits, Footballs, base layers, Cheap rain jackets, 5 aside soccer kits and Short sleeved jerseys and Football team bags for:
BOYS - GIRLS - KIDS - JUNIOR - LADIES - MENS - SENIOR – ADULT - SCHOOL
TRAINING EQUIPMENT
A leading supplier of Cheap Training equipment we can provide a full range of training and Coaching aids to ensure you have all the latest football equipment at discount prices making it cheap to buy your clubs training essentials, these include Training cones, Speed ladders, Hurdles, Mannequins, Passing arcs, boundary poles also known as slalom poles, football pumps, needle inflators, training bibs, water bottles, referees kits, whistles, linesman's flags, medical kit bags and Discount goal nets plus much more all delivered direct to your door.
KIT PRINTING & EMBROIDERY
In our Kit printing and embroidery section we supply a cheap range of team badges that can be personalised to your team's logo's, embroidered or printed. We have a full range of printing services from sponsor's logos in full colour or single colour plus a range of different numbers to personalise your kit including Nike, Adidas numbers for shirts and shorts.
JUNIOR CLUBS / KIDS SOCCER SCHOOL
Our range of budget junior kit clothing is unrivalled, with some cheap priced kid's soccer Strips, jerseys and training wear from all our top brands.
If you looking for junior discount team uniforms, We have a cheap range of kids soccer uniforms, school Football training equipment, junior Rainwear and Teamwear sections within this website, Our web store is designed to make purchasing your clubs, teams or school football equipment and team clothing much easier.
TRAINING WEAR - TEAMWEAR - TRACKSUITS
Our range of training wear, rainwear and Teamwear includes rain jackets, rain pants, tracksuits and soccer training bibs from leading soccer uniform manufacturers. Training wear and Teamwear are available to all age groups, we have a vast range of Kids, Youths, Men's Training wear at discounted prices.
FOOTBALLS
Our extensive range of Professional balls, Match balls and cheap training balls are at unbeatable prices with some great deals on offer